Laazzatdaar khana, sumptuous food has always been the soul of an Inidan wedding.
For each guest that goes to a wedding, the memory of the lip smacking food is that lingers long after everything has been forgotten. And more than the good memories, the bad ones stick for eternity. A wedding which has everything right but somehow falters on the taste buds of the guests, stands little chance to be branded as a successful wedding.
People around the world take their food seriously, but we Indians are a little more touchy about it. Our celebrations and anything around happiness starts and ends with good food. So it is but obvious that when we go for a wedding, this is our top agenda. Drinks and Dance comes a close second, but Food ..well that is the sanctum santorum of the whole wedding piece.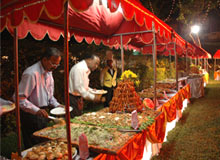 So what do you always keep in mind when arranging for the food arrangements for a wedding.. Well everything. It starts from the menu, to the cook, to the layout, to the variety to the estimate on how much of what to be made, everything has to be thought out and planned ... and after all that planning all you can do is just pray that everything goes as per your plan and people are full of stomachs and praises as they leave the wedding hall.
I may sound like an exaggerator, but I have never been more close to the truth. All I say here is out of sheer experience (good and bad) So I am sure you wont mind a few tips from the expert. Here they go:
1. Do not try too many news. Always go for a caterer or an agency with whom you have had some good experience already. Even if you haven't arranged for a wedding as yet, I am sure you would have attended a few where you were awestruck by the quality of food. Always go on the tried and tested root .. In this case the road less traveled may not be either exciting or rewarding.
2. Always keep a good mix of vegetarian and non vegetarian dishes.
3. Keep kids in mind when deciding the spread. It is very important for the parents that the kids are busy eating so that they have some peace and can relish their plates
4. Focus on desserts. Keep the best for the last.
5. Always label your food, so that people know what they are eating
6. Do not mix too many cuisines, a theme is always better. Eg Gujrati or Punjabi or continental. Many times in our race to give too many options, sometimes the caterer is too hard pressed on time and starts taking shortcuts in preparations and that takes a toll on the taste. The key is keep it simple and tasty.
7. Always keep an option of fresh fruits and milk. Many time there are those oldies who fast. If they feel taken care of..you have won the battle.
7. Gol Gappes are a must if it is a north Indian wedding - or any wedding if you plan to invite me.
And one last thing ...You can never make all your guests happy when it comes to food. The litmus test is you yourself. If you like what you have served...chances are you have done fairly OK on the lazzatdar food front.
Tweet